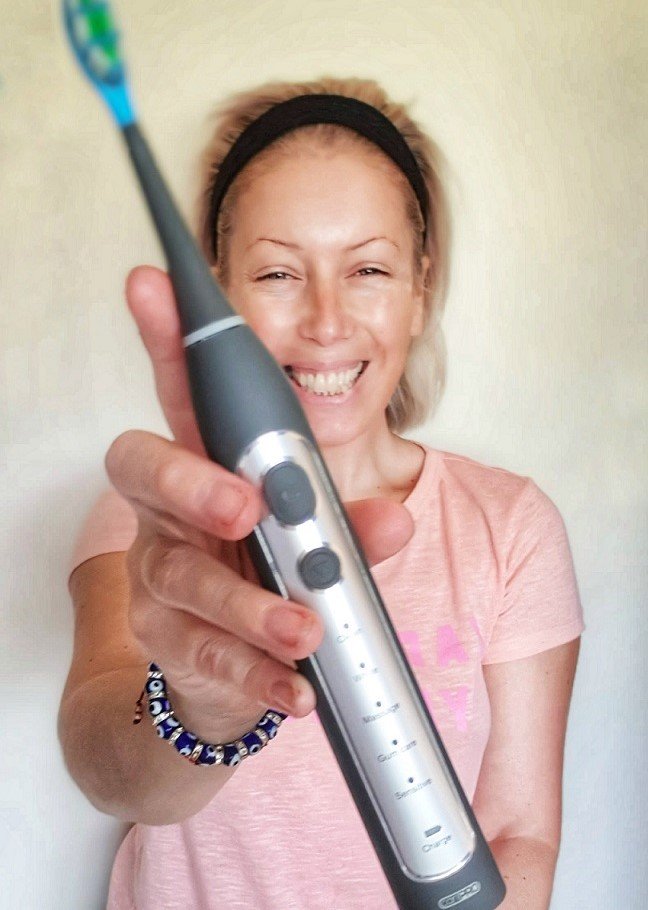 "You don't have to brush your teeth… just the one's you want to keep." 😁
For the past twenty years, I've been using an electric tooth brush as suggested by a dentist at the time: apparently I have a small mouth and my teeth are slightly compacted in… go figure.
So since them I've gone through many different types of brands and to be honest, they were all on the budget side. Which is nothing wrong, especially when you are limited financially on how much you can spend.
Quite a few weeks ago I was contacted by Smile Brilliant to collaborate with them on the new cariPRO™ Ultrasonic Electric Toothbrush to give them my honest review on their product.
And to be frankly honest… I jumped at the chance! For the past few months, I had bought my third electric tooth brush (all within four months, mind you. Bah!), which NONE of them were giving me that satisfaction feeling that my teeth and gums were cleaned.
I was actually spending a-lot more time than usual (and required), making sure my teeth were getting and feeling clean. I became super anal, and it was driving me bonkers! And they were from reputable known brands that in the end, were harming my gums and not cleaning my teeth properly.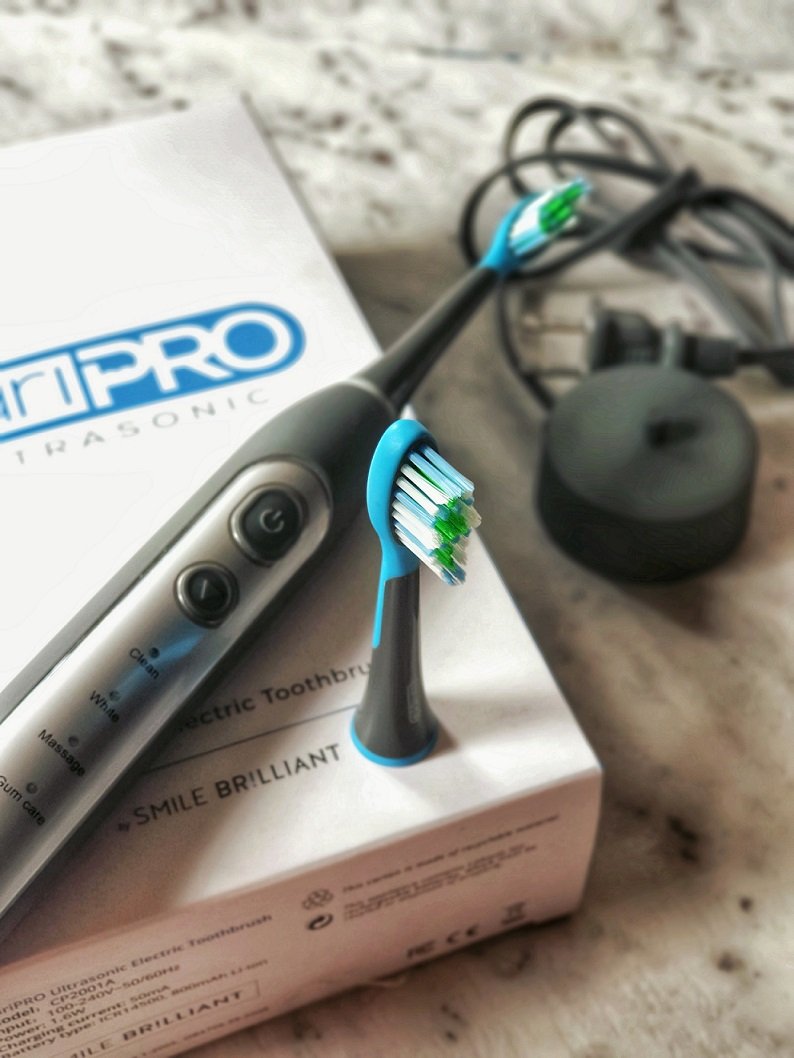 Choosing the right toothbrush is basically, the key to good oral health; and in my personal opinion electric toothbrushes do a-lot more than the standard manual toothbrush, making it easier to get into hard reached places but also giving it a smooth, clean feel to your teeth.
One of the first things I immediately noticed about the electric brush was how stylish and sleek it looked! The second thing I noticed was that it has five different brushing modes, compared to other brands which only have the standard one mode.
Five, I hear you ask? Why? Well, I know it does sound a tad over the top excessive but when you look at each mode and what each one does you do understand the reasons why.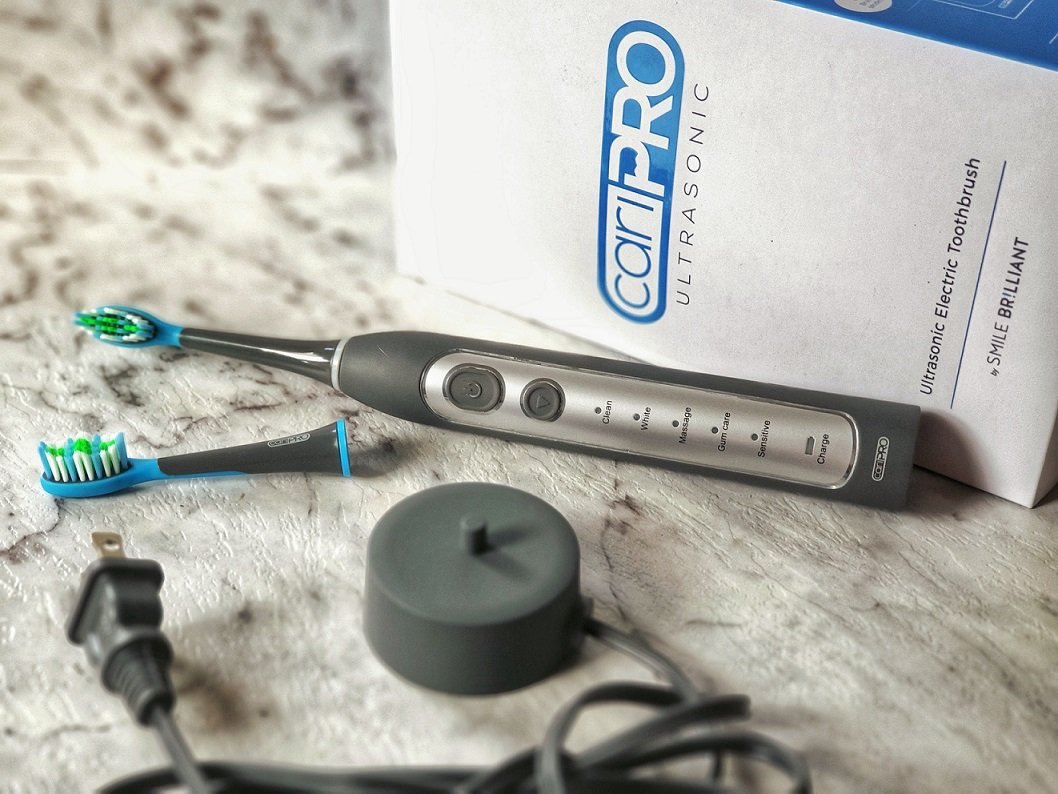 Clean
This is the standard mode for daily cleaning.  It's a good steady speed, leaves my teeth feeling clean and more importantly it doesn't  irritate my gums.
White
The white mode is a powerful cleaning mode and just perfect  for removing surface stains [think, coffee and juice stains], giving it a nice gentle polish and deep cleaning feel. Personally, this is one of my favourite settings as it really makes my teeth feel it has been super cleaned.
Massage
To be really honest, this mode threw me at first, it just felt so weird (and I am still getting used to as it) as this mode has a jumping, deep pulsating vibration to it.  This one is specifically made for you to use on your gums. Not just your teeth but your gums also need to be taken care.
Gum Care
This mode is similar to the massage mode, but just gentler but with a different oscillation. It is also made just for your gums and is perfect for cleaning along the gum line.
Sensitive
Now this mode is perfect for people who have sensitive teeth and gums, which I do! The pulsating pattern took a little while for me to get used to but every so often I do use this mode.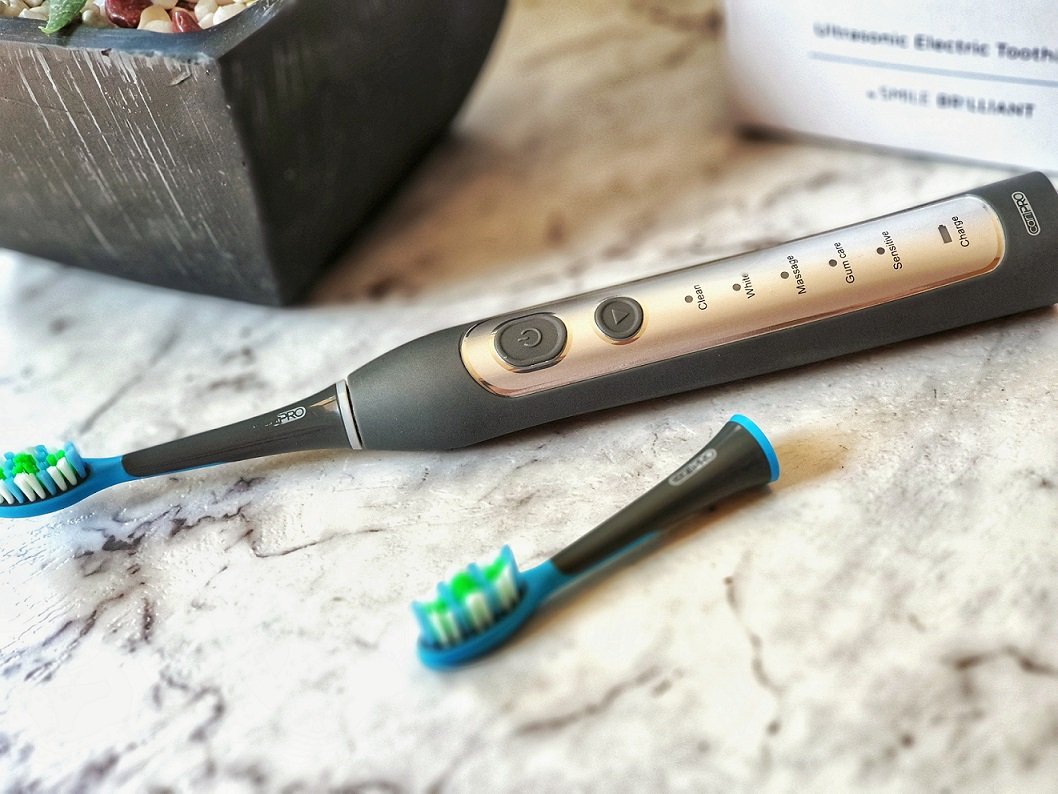 What come's in the box, when you purchase it are the following items:
1 x wireless charging dock base

2 year warranty

instruction manual
After testing this toothbrush now for almost six weeks, and it has gone beyond my wildest expectations – as I had searched high and low for a good perfect electric toothbrush that does what it's supposed to do: clean my teeth and gums, all the while keeping them clean and healthy. The toothbrush is light and gentle, and it grips well in your hand.
If you're still uncertain that I've changed your mind with my review, then here are some further points to consider in choosing the cariPRO™ toothbrush:
It removes more than seven times the plaque that your standard (boring) manual toothbrush.  Seven times!!
It improves gum health within 2 – 3 weeks [I suffer from hereditary gum disease, and have noticed a big difference]
With regular brushing, twice a day it will remove surface stains from everyday food & drink
By purchasing this electric toothbrush, you are investing wisely into your oral health long term with guaranteed results.
Comparing it to other brands I have ever used over the years, and especially more so within the last six months, there really is no comparison.  On the previous brands I used, in the end they were doing more damage to my gums, with the bristles being hard even when I bought the brushes in soft, making my gums bleed more.
It truly is worthwhile, and it is an investment for your teeth to buying a good toothbrush like this one and it really has changed my life  and honestly, I'm not just saying that. Do yourself a favour!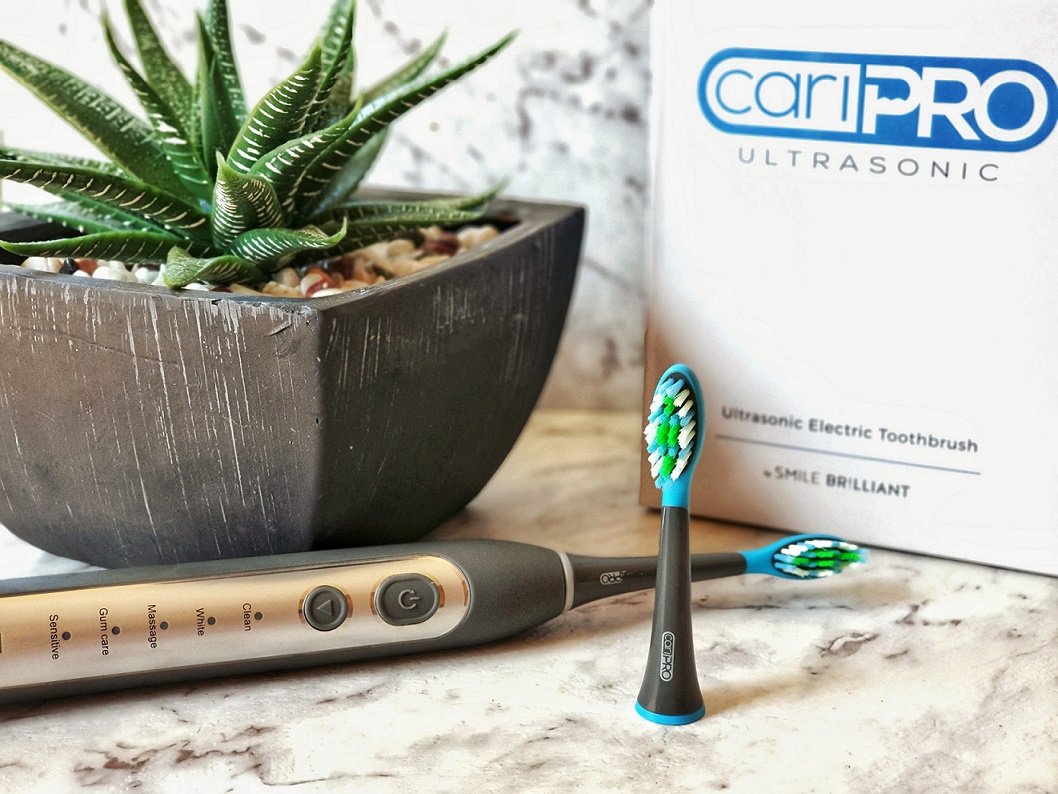 If you want to purchase your very own Smile Brilliant cariPRO™ Electric Toothbrush make sure to used my code: susanalopessnarey20 to get 20% off!! Your teeth will thank you xoxo
Disclaimer: Smile Brilliant provided me with a free cariPro electric toothbrush in exchange for an honest review on my blog. All photos are copyrighted to Style & Life by Susana. All thoughts, reviews and opinions are 100% my own.
Share the love please xoxo