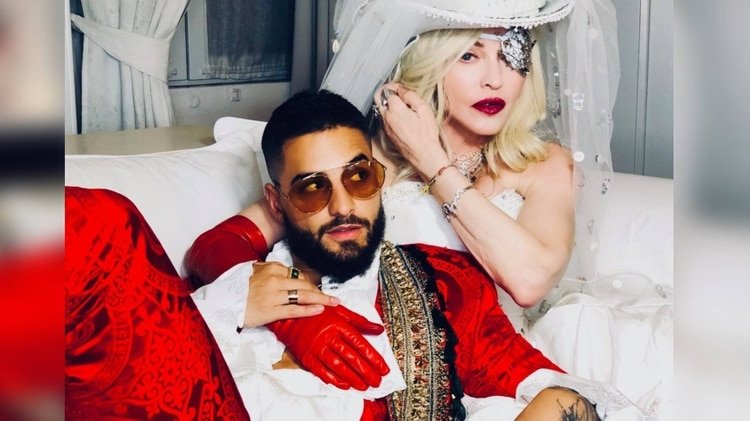 "People say I'm controversial," 
"But I think the most controversial thing I have ever done is to stick around." Madonna
OK, I am just going to say it – but this track by Madonna is completely & utterly phenomenal.
I will admit, at first leading up to the release of Madonna's new single in four years, I was completely worried. I have loved every song of hers, but there are the (very) odd track I have skipped on her albums.
Would it be any good? Would people even care? Would her, Rebel Heart fans even care? And the answer is a complete and thoundrous YES!!
If people are expecting another Like A Virgin, Like A Prayer, Hung Up, Ray Of Light… Remember, that those songs were not born an immediate classic. And remember, most of these songs were born almost thirty (!!) years ago .
Now if you remember back in 2005 when Madonna, released the incredible, 'Confessions On A Dancefloor', so many reviews and comments I remember reading were: 'Why can't she put her fanny away?' …um, you do remember she had on a leotard.
I guess most people actually did forget back in 1992, when she actually did have her vagina pretty much out on display when the 'Sex' book and the album, 'Erotica' were released. Like, seriously people. That was 1992.
And what about Miley Cyrus at MTV Music Awards in 2013?? …as the saying goes, tomayto, tomahto… (!!). So let's be honest, whatever this lady does – by her fans she can really do very little wrong. Yet by her critics and the public, she just cannot do any right.
If all you are hearing is a generic reggareton beat and a guest vocal from a very current hot latino male artist, then you are missing completely so much.
This song has many quirks that you just cannot find anywhere else currently on any Top 50 singles chart:
You cannot find story telling like this in any other current reggaeton song by major artists, certainly not a duet.

You cannot find such a slow, simple and soft cha-cha-cha rhythm constantly bubbling throughout but with this level of background production.

Mirwais's production on top of the rhythm is 10/10. There is nothing else out there adding electronic dub elements (think Ray of Light,Music, American Life) to a classic (and what otherwise is) a very much overheard template reggateon/soca beat. Are there any other songs which have french, complex, electonic production to reggateon songs at the moment?? I really am astounded by the depth, quality and preciseness of the production on this record. The bass is so deep and low it shakes the room, the dubbing is so panned (including malamu's vocals) it almost feels ethereal. The percussion is so crisp it pinches at the right time. It almost has an ASMA quality to it at parts.
4. Madonna's delivery is unique. The way you think each lyric has ended and then she adds (in an unexpected key) another word such as 'year', 'myself' at the end. I cannot remember the last time I've heard delivery like this before.
5. Her vocals are so soft and delicate. In the past she has sounded quite shrill and piercing. The hard candy record being the worst example of this.
Yes, perhaps Madonna's vocals could have a little less vocoder on them, but that really is Mirwais's style and I think it's better having too much than none at all…again it brings a different dimension to what is already out there on current play lists. I also really like the simple quirk of him slowing down certain words as if someone is stopping the record on a turntable. (eg 'ven conmigoooo..o.o.o.o')
"As a woman fifteen years behind her in age, I look to her as a role model of continued reinvention, perseverance and inspiration. Not only has she always been a marketing genius, but a creative visionary and probably most importantly, has never been afraid to stand up for what she believed in. She has paved the way for all women."
So what are my thoughts on it?
Well, I think it is Madonna's best single since 2015. I haven't been as obsessive of a song of hers since, 'Ghost Town' from her last album, Rebel Heart – it is such an underrated song, and true testament of her talent.
My advice is to please listen to it with an open heart and mind. Don't relate and compare it to the current Top 50 charts today [which in my opinion has become so overly generic, over predictive and unimaginative and definitely unchallenging, not artistic…] there is so much more to it than what others are saying.
I appreciate, and completely understand that we all have different tastes but I really don't think it is right to say this song is just trying to be 'trendy reggaeton track featuring a very current latino artist because Madonna is trying to cling to relevance or youth or only copying trends' etc.
But lets be completely honest, once we peel back layer after layer, after layer, after layer .. is that it is actually this artists age AND  their sex (female), that people always focus on. How dare an older artist make music that is current and relevant. Oh the shock, the horror!! …That is the actual fact.
Music is not an youth thing. Music is a human right. Non judgemental, non discrimatory.
This record is also a very well layered track with a significant amount of depth, and if you listen carefully you will hear that Madonna and Mirwais are certainly the masters behind this track, and they are travelling in their own direction and making their own path.
Coming song to my blog, related to this article (in a way), will be an article I am currently working on about agesim and being a woman. How society still places upon our celebritites and public figures, and even upon us female mere mortals, so much pressure and expects us all to move into a corner and hush up. Think about it? When was the last time you applauded/supported an over 40/50 plus year old woman for going for her dreams, and for being a fighter in a men's supposed dominated world.
Do we still expect them to be stuck in a time warp of their hey day, are they not allowed to grow and move through life. And how can we not accept that in years to come, many will place a tape cross our mouths when we grow older and expect us to be placed into a corner to wither away?
Do unto others as you would have them do unto you.
Let's keep an open mind, and just enjoy Madonna's new single for what it is: a fucking good pop song and forget about the number behind the age of this artist.
Ay, ay, ay!
Share the love please xoxo