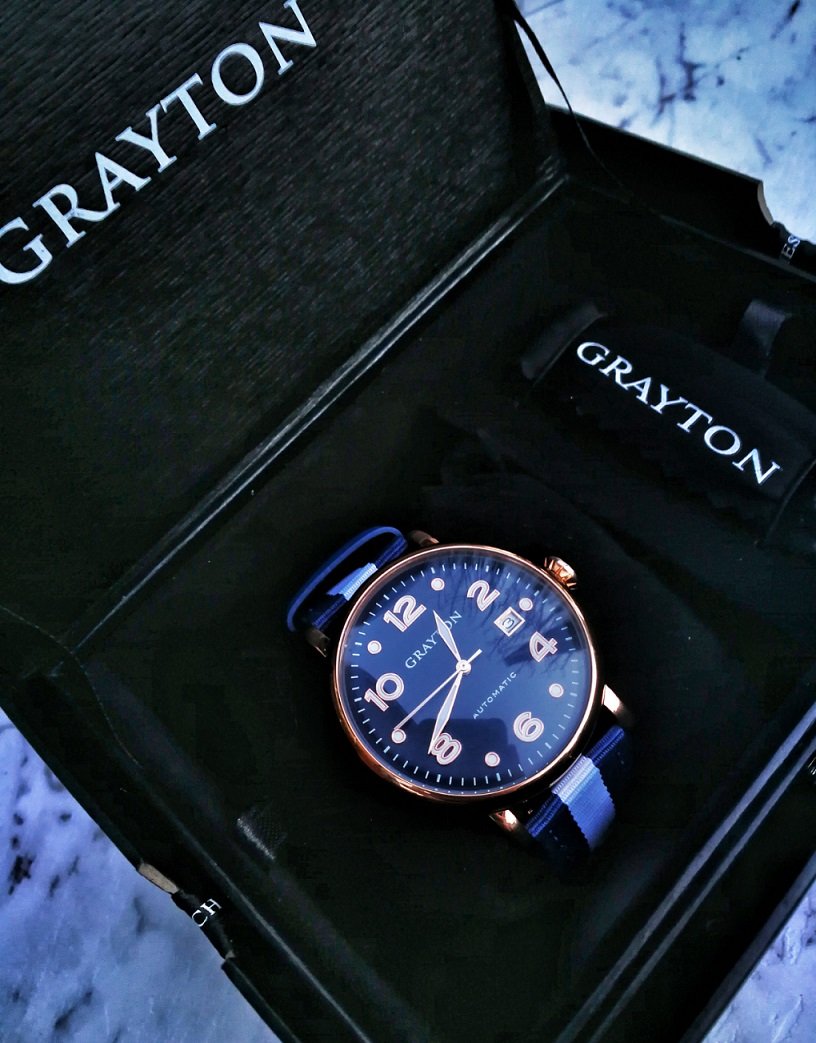 THE ART OF AUTOMATIC
AFFORDABLE LUXURY
Choosing a Grayton Automatic Watch is a conscious return to a mindset that our grandparents knew well: that investing in solid, built-to-last goods was the right thing to do.
I was ten years old when my father gave me my first ever watch and it was digital. Digital watches were THE watch to have back then – it was the early 80's OK, haha! I felt so grown up that I had my very own watch. I would stare at it and play with it for ages, it was just so amazing and magical that I had my very own watch.
Because of my father, I have had a deep love affair with watches and probably own over twenty. I am very particular and super picky when it come's to a watch. A watch is one of the most important accessories a man or a woman can own, and there is nothing more elegant and timeless than a watch and it will also add another level of style to your outfit.
I know that we now live in such a technology influenced world that to know what time it is, we can just pick up our smart phones and look at to see what time it is. But I truly love being able to look over at my wrist and look to see what time it is. Nothing beats that feeling.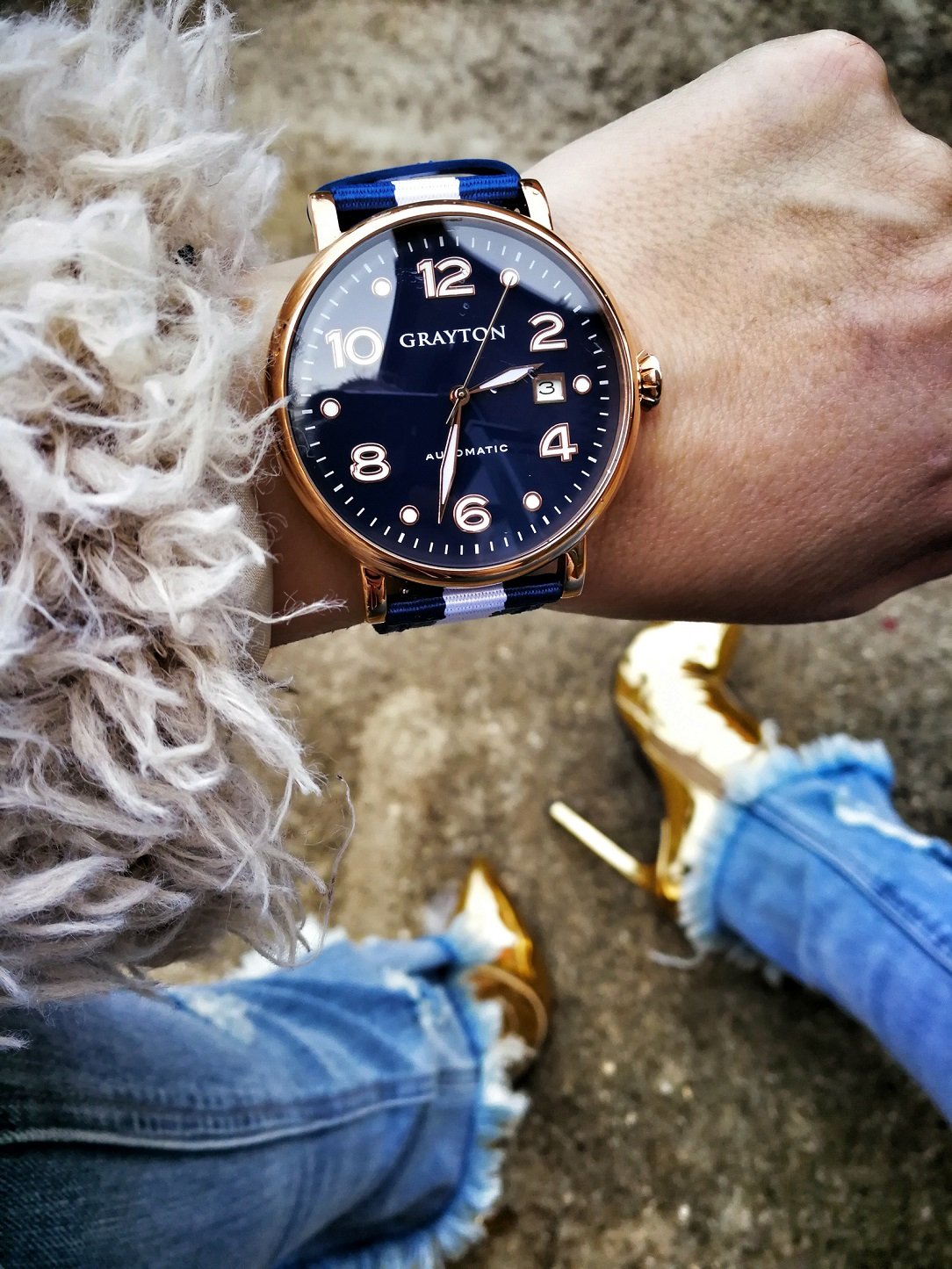 What's so amazing about Grayton Watches is that they are automatic, and what that means is that you don't need to worry about changing a battery every 12 or 24 months, and you definitely don't have to worry about having to wind it up either.
Automatic watches are the most unique and intricate kind of mechanical timepieces. All mechanical watches are driven by a spring (or mainspring), which powers the movement of gears and hands.  With the spring's loss of energy over time, people had to regularly wind it up to make sure the watch would not stop.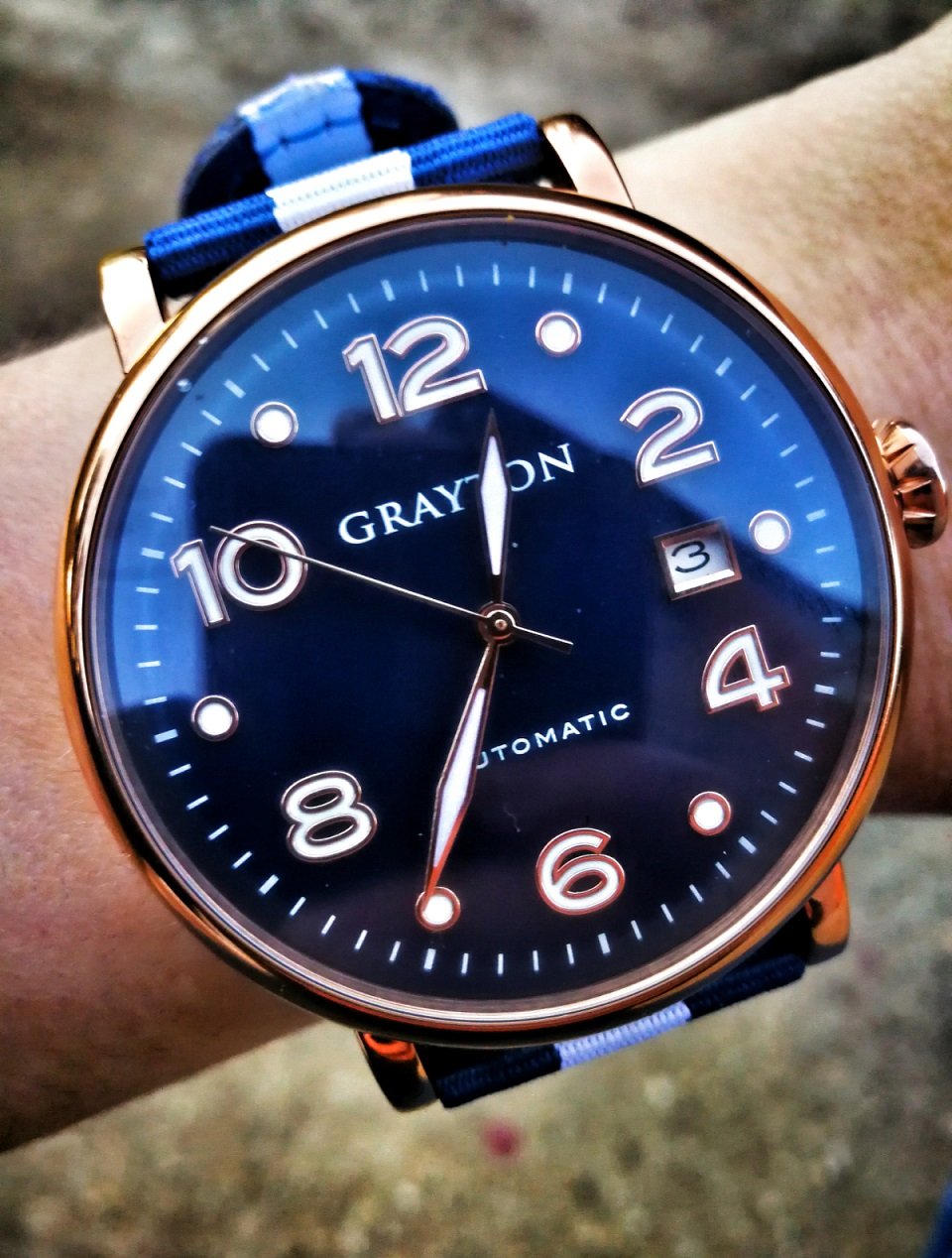 Automatic (or self-winding) watches eliminate the need for the people to wind the watch, with a mechanism that winds the mainspring automatically. The weights in the watch's mechanisms spin while the watch is worn and the person's wrist is moving. Just simply walking will keep an Automatic continously wound.
So how does it actually work??
Well basically the watch gathers and stores all energy through the movements so it is able to keep running even if you take it off at night.
And once all that stored up energy is used up basically that's when the watch actually stops.
Just a simple movement of the watch or winding of the crown (to reset the time and date) and the whole process starts all over again.
The 'automatic' span is 41 hours even if you're not wearing it – it will just keep on going. Simple, effective and in many ways, environmentally friendly (.i.e. doesn't use a battery). I like to think of this watch as a spiritually inclined, manifested watch. It 'feels and works with my energy.'
The watch I'm wearing is the blue dial and blue & white 2 colors fabric strap – use the code to get 15% discount off by using this code: CS4-Com-GRAYTON15%-styleandlifebysusana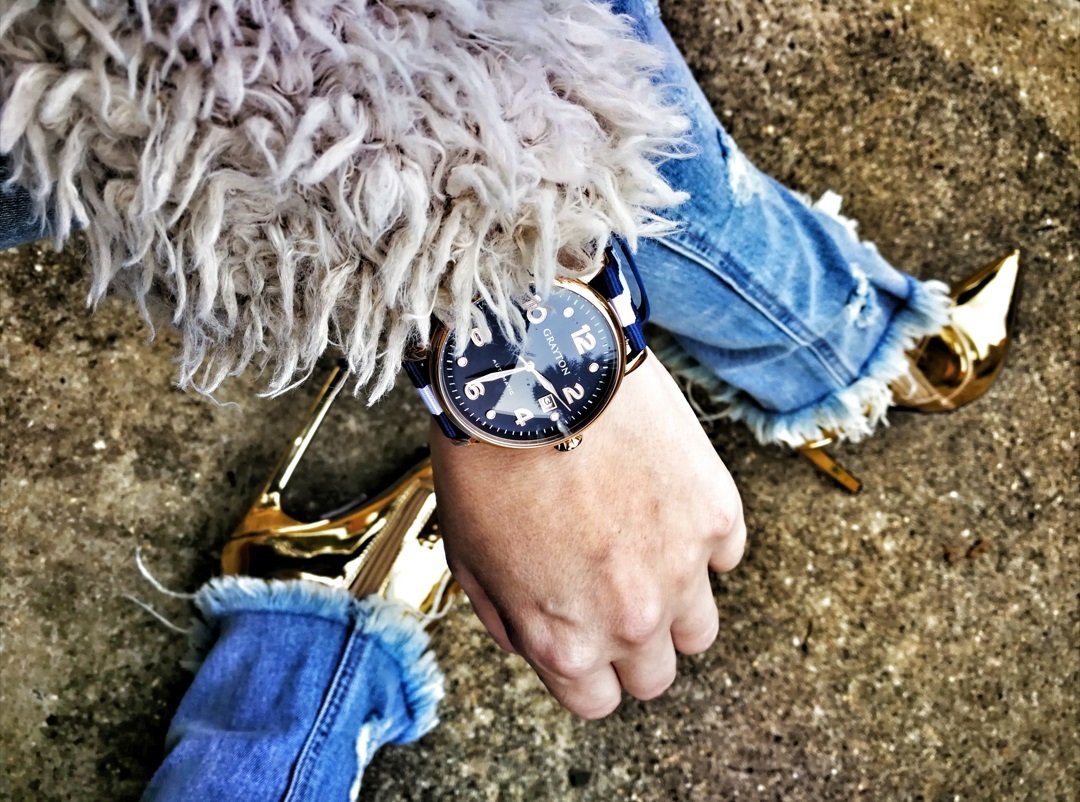 Craftsmanship and aesthetics combine to create the allure of an automatic watch. Wearing an Automatic is a statement of elegance with a respect for tradition.
This watch to me is much more than just another watch in my collection. It's a beautiful timeless piece that is designed to match with my lifestyle and add another dimension of style to whatever outfit I'm wearing.
It's a luxurious and timeless accessory piece, that will last for many many years to come.
This watch from Grayton Watches was gifted to me for my editorial consideration, that resonates with my style. Full disclosure policy here.