Beyoncé is in a fierce, powerful and middle fingers-up mood. This is her most profane, political, personal and ambitious album she has release so far to date.
The visual album has now become Beyoncé's signature style album: an album where each song has its own music video and is told in a 'long music movie video format'. Queen B first delivered this genius style of album back at the end of 2013 with the release of her self-titled album and the world went bonkers for it! She literally changed the rules on how pop stars release their music.  With the last album being basically almost being a dedication of love songs to Jay-Z, this album, well… it's quite the opposite. Sasha Fierce is freaking pissed off as hell and Jay-Z better duck for cover!
Beyoncé has gradually over time evolved from a member of the highly successful R&B all-girl group (Destinys Child) to a solo artist, who with every album has changed not only her look, her style of music but her confidence growth as an artist. Her song writing, music production and visual concepts of whether it be music videos or concerts, is where she has developed incredible knowledge, strength and power but is also another step forward for Beyoncé as a musician. The music on the album is interweaving mixtures of R&B, rock, soul, hip-hop, pop, and blues.
Upon listening to this album the first thing that I noticed a part from the obvious pissed off angry tone of the album but how Beyoncé has made this album not to be for mainstream radio but for her own self-expression and creativity pleasure.
'Lemonade' is based on every woman's journey of self-knowledge and healing,' Tidal said in an announcement.
The album has 12 songs and features appearances from The Weeknd, Kendrick Lamar, James Blake and Jack White, and if you are expecting a similar album to her previous albums with songs in the same style as 'Irreplaceable', 'Halo', 'XO' or 'Love on Top', then you're in for a rude awakening.
This album is basically a personal statement album from Queen Bey expressing all of her emotions and thoughts from what has been happening in her life since the last album. The album reveals complete raw emotions, rage, heartbreak and betrayal, signs of infidelity which documents in the changing chapter of the evolution of Beyoncé: female empowerment overcoming sexism, bullshit, lies and deceit.
Beyoncé is a woman not to be messed around with and she will let you know it too. "Who the f**k do you think I am?! You ain't married to no average bitch, boy!" She has always married the boundaries between her art and her personal life, since she has grown up in the public eye since her mid-teens.
I will be honest though, when I first listened to the album upon its release I wasn't that sure about it. It did take a few listens. Over and over, over and over.  This was a Beyoncé that we've had only slight glimpses in the past through songs such songs as 'Survivor', 'If I Was A Boy', 'Diva', 'Heaven' and 'Flawless'. But this new album reveals a whole other persona: a woman, like any other woman, hurt, angry and feeling betrayed by the man she loves.  The more I listened to it, with an open mind, I just fell in love with it.
This is Beyoncé's best album to date and it's probably, to be honest, the third album of hers that I have played constantly on repeat. Listening, from start to finish.
I've moved past the obvious insinuation of the Jay-Z/betrayal/infidelilty/rage/redemption/female empowerment parts and just see it for the master piece that Beyoncé has really created. She is now creating music that she wants to write and sing about. It's not all about trying to get another top ten hit single any more. It's about revealing her truth, being authentic and wanting to make music her way; on her own terms. Not what a major record label tries to push onto their artists to do.
When the first single of the album was released, Formation (a song that reclaims the power of black women and 'I dare you to come at me' self-empowerment) many believed the album would be politically charged. Ummm, no. 
The album focuses on parts of her marriage and the media circus of the past two years that followed from the Met Gala elevator incident with her sister and Jay-Z but also female empowerment.  Yes it documents in raw painful details the allegation of an affair, the insinuation threat of divorce and but moves through into forgiveness and reconciliation. Each song on the album acts as a step in the evolution of anger, grief, redemption and healing.
In the opening number of the album, Pray You Catch Me, she sings painfully, "You can taste the dishonesty, it's all over your breath". The music really confuses you as it sounds like a beautiful (happy) love song but when you listen to the lyrics it really couldn't be more further from the truth. This is definitely not a love song. For Jay-Z or any man, you do not cheat on Queen Bey, and boy if you do, you better damn well hide and hide real good! Because she will come for you! Hell hath no fury like a woman (Beyoncé) done wrong!
"Suck on my balls, I've had enough," she sings on one of my absolute favourites, Sorry, shortly before threatening to leave and take their daughter with her. "Big homie better grow up", she further sings. This song is complete perfection for the middle-fingers-up anthem that will definitely be sung by women worldwide who have been hurt by their partners . "Looking at my watch, he shoulda been home,. Today I regret the night I put that ring on. He always got them f**king excuses, I pray to the Lord you reveal what his truth is," she further sings on Sorry. Classic.
In the raging rock number, Don't Hurt Yourself, which samples a Led Zeppelin song ("When The Levee Breaks") and was also co-written with Jack White, Beyoncé's in your face put down of a cheating, disrespectful husband, raging: "This is your final warning, You know I give you life, If you try this shit again, You gonna lose your wife." That in itself says and reveals a lot more to what's been happening with Beyoncé's marriage. There's no hidden innuendo's or hidden messages. This is upfront brutal emotional rawness of a woman angry as hell.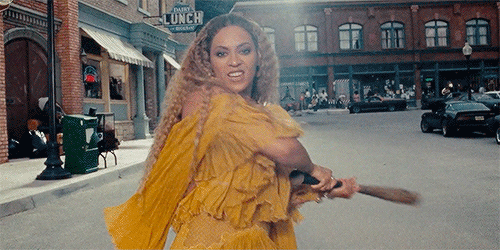 Beyoncé then changes the pace mid-way through the album and mixes in some good old fashioned New Orleans style music, with the song, Daddy's Lessons. With the song, Freedom (with an awesome rap from Kendrick Lamar) it includes Jay'z's 90-year old grandmother proclaiming: "I had my ups and downs, but I always had the inner strength to pull myself up," she says. "I was served lemons, but I made lemonade."
'Lemonade' is the album that Beyoncé is at her most creative, ground breaking, vulnerable and fearless to date. Not many artists nowadays reveal that intensity in their music any more.  Middle-fingers up to anyone who tells you to turn it off.