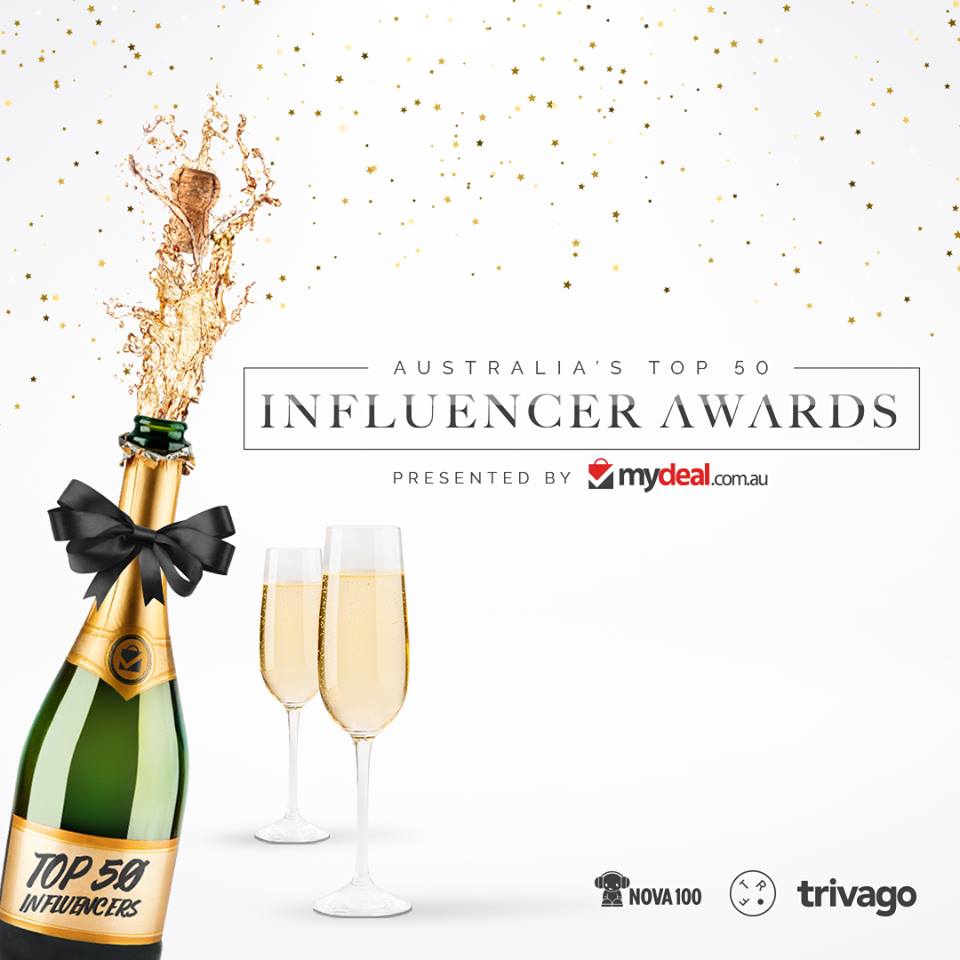 Yours truly was recently personally invited to enter Australia's Top 50 Influencer Awards, which is presented by MyDeal.com.au, celebrates the success and impact of Australian online influencers across YouTube, Instagram, Blogs and other popular social media channels.
They recognise a variety of individuals and segments including health & fitness, fashion, beauty, travel, parenting and culture. With the support of Australian brands and industry leaders, the awards are on their way to becoming an iconic yearly ceremony embodying Australian culture in the digital sphere.
When I received the email from them, my mouth literally fell to the floor with a huge bang! I couldn't believe it and actually had to read the email like four times to make sure I wasn't imagining things again. Haha!
To be selected to enter, was a huge thrill and honour for me as I have work so hard, from the moment I get up in the morning, throughout the day (in-between report writing at my full-time during the job – shhhhhhhhhhh! Don't tell anyone! wink, wink) ), during lunch and when I come home after making hubby and my furbabies their dinner, until I hit my pillow on the bed.
I literally live and breathe this blog. I want to make it a success and where I can take it to the next level of making it my only full time job that I can make from home doing exactly what I love and am passionate about.
While the organisers of this event are judging the selected bloggers, blogs – there is a public section where you can help me be crowned the Queen of Social Media! And whats even MORE brilliant is that you too can earn yourself some goodies in the process by naming and voting for me! YAY!
To go in the running simply click on this link – http://bit.ly/2jcvP6l – to enter, write the name of my blog, Style & Life by Susana as the name of your favourite Australian influencer.
The gift prize pack includes gifts from: Uncle Jack Watches, Roc Eyewear, PearlyWhites, VividCase, BLK water and 20th Century Fox. So, if you could help this little blogger and vote for me, I would be forever grateful.
You will also find at the bottom of my home page on the left hand for the screen, is a widget that says, 'Vote For Me'. You can click on that too every time, you visit m blog.
Regardless whether if I get mentioned or get a place somewhere in the Top 50 where I am invited to the event, it will be just a dream come true and that personal invite was an affirmation that this is what I am supposed to be doing, and I am on the right path. I am completely and utterly so grateful to have been asked.
Thank you all again who do vote me, and massive hugs xoxo