"You need to catch your breath, take an hour, fall apart, come back, and we are gonna figure this out."– Jaqueline.
Every so often a television show comes along and just completely grabs your attention, and soon enough, you find yourself completely wrapped up in it & obsessed -and The Bold Type is exactly one of those television shows.
I started watching it over a year ago as I had seen it all over social media how The Bold Type was this generations version of the Sex & The City, and anyone who loved SATC, would love this show. Really?? Really??? Are you sure? That's a bold (pun intended) statement to make.
I mean, come on – there is no way another supposed television show could replicate or have the same impact as SATC did with its fashion, the relatable (and at times, in your face) story lines, the sassiness, the empowerment it gave to women, and how it became my generations voice. Seriously, there was no way.
Anyway, I decided to tv binge this show over a whole weekend. Hubby was actually away that weekend at a baseball tournament. So, it was just me, the furbabies and the TV). And binged on season 1 and 2. …And I just fell in love! It did not disappoint one little bit. OK, so it focuses mainly on the lives of 3 main twentysomething millennial characters living and working in New York however it does cover a massive range of issues extremely current in today's society.
The show is a clever mix of writing, acting, followed by an incredible cast. The Bold Type is a show that lives up to all of its hype and so much more, and here are my five reasons why I think you should be watching it:
📺  Friendship
The main core of this show is the friendship between the three central characters on this show: Sutton, Kat and Jane.
There is never any bitchiness, no back-stabbing, no tearing someone down because someone else got a promotion…  just real supportive friendship. When one of them is going through a rough time, they make sure the other one is supported and looked after. They may not always see eye to eye – but they never let each other feel abandoned & are always cheering each other on.
📺  Relatable Issues
Its relatable in the sense that it talks about issues that are happening right now in our world. Pushing the envelope even that little bit further. Talking  about a broad range of topics such financial struggles, breast cancer (when Jane finds out she has the BRACCA gene), ageism (the editor, Jacqueline), sexism, racism, trying to find out what your identity is (Kat exploring her sexuality), immigration and so much more. It takes on a lot of issues with real depth, and humanity & doesn't stay bound to any stereotype.  
📺  

Jacqueline Carlyle
Jacqueline Carlyle is the boss everyone wishes they had! She is editor-in-chief of Scarlet Magazine who is the opposite of the evil boss (aka as Miranda from Devil Wears Prada – such a good movie).
She is a no nonsense but firm boss who expects people to work hard because she wants the very best out of her employees & for them all to realise their full potential. Also, she tackles on sexism and ageism at times when someone are wanting her to stay in the background – which almost could tear her down but then somehow always turns it around with such badass grace, that just truly motivates and inspires you.
Pay attention to when she is having a one on one chat with any of the characters and the wise words she gives. You get inspiring quotes from her such as:
"The writing gets easier, the broken heart takes time."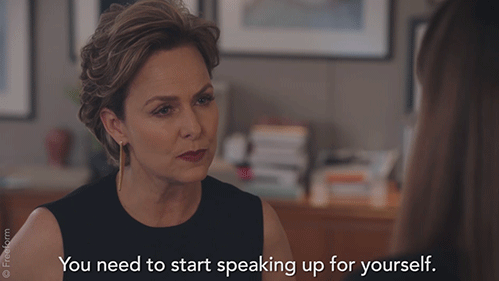 📺 
  Fashion Closet
If only we all could have a walk-in closet at work (or home) that stored every designer piece, accessories and shoes galore. Sigh. That would be pure heaven.
The clothes are picked perfectly for every character on the show. Some pieces are high end down to second-hand vintage and brought together perfectly, and just like Sex & The City, it will inspire you to express yourself & your individuality.
📺 
Kick Ass Motivation
Every time I watch this show, I always get a sense of motivation, and encouragement that I too, can achieve whatever I dream of and/or want.
Whether you are going through a hard time in your life (and for me it is constantly my anxiety and deep insecurities if I am good enough) this show, will give you the motivation to believe in yourself, be brave, go out & kick serious ass, and know that you too can conquer the world just like the women at Scarlet Magazine.
Share the love please xoxo