COOKED IN THE SLOW COOKER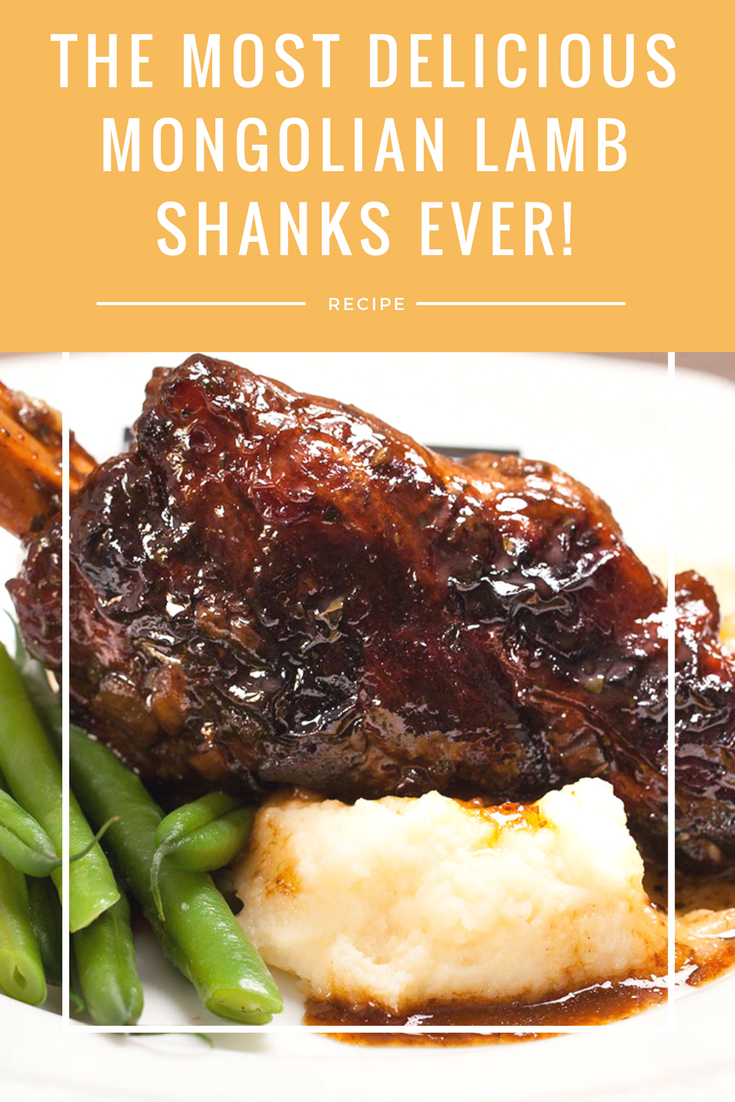 I cook this meal on a regular basis in my household and I can tell you that it is extremely popular with my husband, my mama, myself and of course my two fur babies! 😉
* This serving is for just two people. Obviously, the more people there is, the more lamb shanks you're going to need (!) ?  ...so here is my own recipe for the most delicious mongolian lamb shanks, ever!
---
INGREDIENTS: 
2 x lamb shanks
1 litre of organic vegetable stock liquid
1 teaspoon of salt
1 teaspoon of pepper
1 – 2 tablespoons of italian herbs
STEPS
Slow cooker lamb shanks:
Toss lamb in flour that has been seasoned with italian herbs, half a teaspoon of salt & pepper and then shake away excess.
Heat half a cup of virgin olive oil in a large frying pan.
Cook lamb over medium heat for about five minutes or until browned all over. This will seal the lamb shanks before you transfer them to the slow cooker.
Place the vegetable liquid stock into the slow cooker along with any vegetables you love into your slow cooker. I've placed carrots, onion and sweet potato.
Place the lamb shanks inside the slow cooker and turn it onto high and allow to cook for 6 hours or low for 8-10 hours.
Remove the lamb from the slow cooker and place into the oven to get braised.
MONGOLIAN SAUCE:
INGREDIENTS:
1/2 cup of soy sauce
1/2 cup of water
1/2 cup of organic brown sugar
1/4 cup of organic corn flour
Place in a small saucepan 1/2 cup of soy sauce, 1/2 cup of water and 1/2 cup of organic brown sugar and mix it all together and until all well blended.
Then mix in a 1/4 cup of organic corn flour and mix it all well until its blended it. You may get little corn flour floaties but just keep mixing it until it has all dissolved within the mixture.
I usually put in another 1/4  cup of organic brown sugar as sometimes the taste of the sauce mixture can still be quite strong, this extra bit just allows the strong taste to settle a little.
Heat the mixture on medium for about ten to fifteen minutes, continuously stirring. It will soon start to thicken up.

Don't

allow it to get too thick!!
ONCE THE LAMB SHANKS ARE IN THE OVEN:
Pour some of the mongolian sauce over the lambs shanks while they are in the oven to get braised up a bit. Leave them in the oven for about 10 – 15 minutes.
Once the lambs shanks are all braised, remove them from them oven and serve them onto the plates and pour the remaining mongolian sauce over the lamb shanks.
Once cooked serve with mash potato, veggies and warm crusty garlic bread (yum!!)
What's your favourite meal to cook in the slow cooker? I would love to hear about it in the comments below.